LED Spheres
A wonderful accessory for your party or event – the Illuminated Glow Spheres. We stock 3 sizes of LED glow spheres, all of which can be used together or separately. Larger balls are great for décor around entrances, gardens, corridors and other areas needing a focus. Smaller balls are perfect as cost-effective, modern table centres. Being waterproof, the most popular option by far for all the sizes of glowing balls is to display them in the pool or water feature (please note – glow spheres are not to be submersed in water).
All three sizes can be mixed together easily and are a great effect in large quantities. They feature a flat base to prevent them moving whilst in position. As with the rest of the range, all are controlled by IR remote, and can be operated individually or together.
Our range of Event Hire Furniture is designed for use both indoors and out with no unsightly cables. All the products are made from sturdy polyethylene and are controlled by a infra-red remote. The glow balls are all rechargeable, allowing wire free operation for up to 10 hours. With a number of light modes to choose from –static, smooth fade, fade, strobe and flash depending upon your mood and also a light intensity range.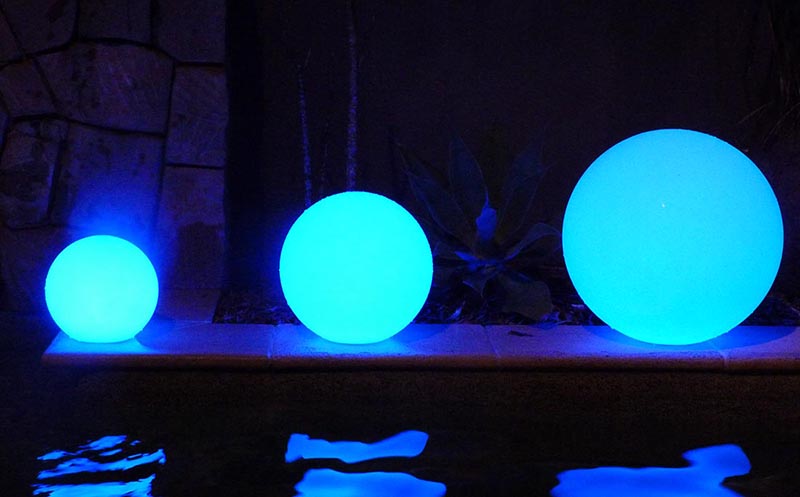 Size of Glow Spheres: 25cm, 35cm and 50cm

Price per night for 25cm
$25 each
Price per night for 35cm
$30 each
Price per night for 50cm
$50 each

We are one of Australia's leading suppliers of illuminated event hire products
All of our furniture is rechargeable – can be used on the mains or wireless
We will work with you to tailor a package to suit your space, requirements and budget
We can offer competitive discounts for large orders
We are a small company and offer a personalised customer service to work with you to create an event that is the best it can be