Illuminated Columns
GoGlow has 3 sizes of illuminated columns to choose from and 2 different shapes, rectangle or cylinder. A very unique and creative way to decorate your event space is with the use of our fully illuminated (lighted) decorative columns with use of special LED lighting. Ideal for any event style, weddings, corporate presentations, company parties, graduation ceremony, fundraiser events, stage design, theatrical shows, or festival concert events.
Because we use LED Lighting inside of these columns, operated by infra red remote control, there are 16 different colours to choose from to match your event theme.
Our range of Illuminated Event Hire Furniture is designed for use both indoors and out with no unsightly cables. All the products are made from sturdy polyethylene and are controlled by a infra-red remote. The columns are all rechargeable, allowing wire free operation for up to 10 hours. With a number of light modes to choose from –static, smooth fade, fade, strobe and flash depending upon your mood and also a light intensity range.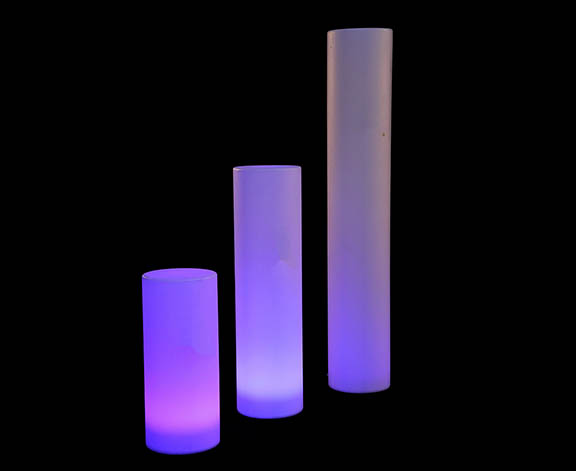 Columns Group of 3 different sizes
A group of 3 columns, all different sizes, small, medium and large. Choose from rectangle or cylindrical shape.
• Size of Columns: 70cm, 110cms and 170cms.
Prices for one group of 3 different sizes per night: $150
Illuminated Columns Medium – group of 3
Available in rectangle or cylindrical shape.
• Size: 110cm high
Price for group of 3 medium size per night: $150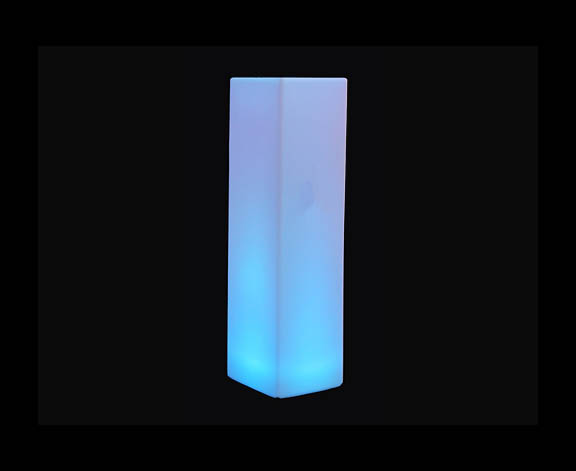 Illuminated Column – Small
Available in rectangle or cylindrical shape.
• Size: 30cm x 70cm
Prices each per night: $40
Illuminated Column – Medium
Available in rectangle or cylindrical shape.
• Size: 30cm x 110cm
Price each per night: $55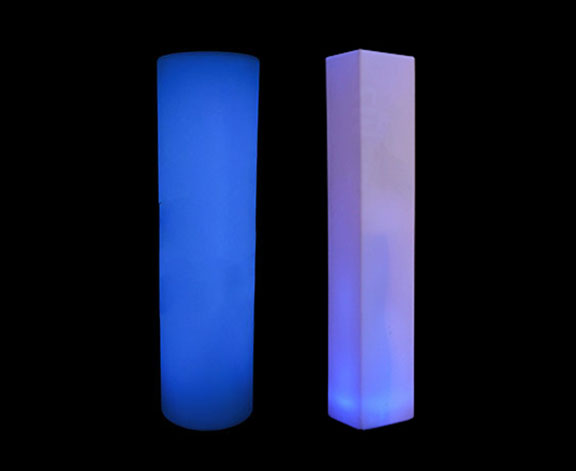 Illuminated Columns – Large
Available in rectangle or cylindrical shape.
• Size: 170cm high
Price each per night: $70

Based in Noosa, we are one of Australia's leading Illuminated Events Hire companies
All of our furniture is rechargeable – can be used on the mains or wireless
We will work with you to tailor a package to suit your space, requirements and budget
We can offer competitive discounts for large orders
We are a small company and offer a personalised customer service to work with you to create your special event